Slut dato:

2019-11-24
Henrik Kleppe Worm-Müller
- about his art.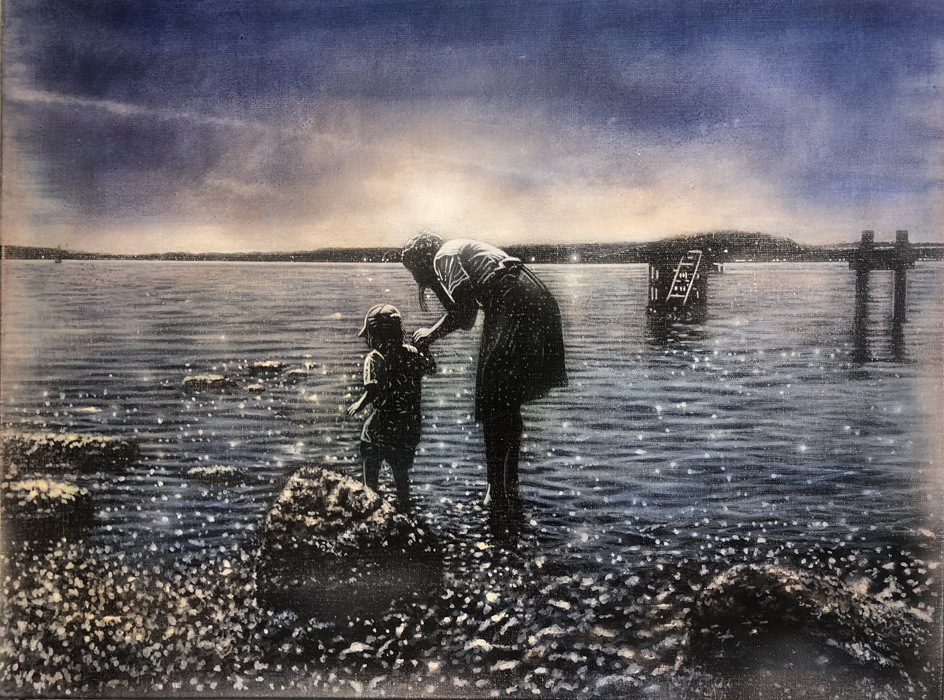 I focus in my art on moods. I can best convey that in the landscape painting. 
I became interested in landscape painting the first year I went to Oslo drawing and painting school in 2001. William Turner quickly became my biggest inspiration, then Lars Hertervig and the national romance. And in recent years I have had many references to the Impressionists.
It is difficult for me to give a special clue as to where I find my inspiration. But it's probably from things I've experienced. At the same time, I am also inspired by what is called kitsch. So I mix kitsch with designs that have nothing to do with kitsch. I find it extremely interesting to see what happens when I mix something naively with something that has more substance.
Technically, David Lynch's Twin Peaks has been instrumental in influencing my expression in painting. As I watched the 2000 series, my paintings changed, becoming more aware of what I was taking pictures of, camera angles, perspectives and lighting.
In addition, in recent years I have worked more with colors than I have in a long time.
With my current expression, I manage to convey the feeling I actually have inside. It is, in a way, an overall summary of everything I have experienced and been through.
See more >
Slut dato:

2019-10-27
Vilmantas
29.09 - 27.10
Together
20 years of intense collaboration and Vilmantas upcoming 50th birthday are the occasion to present an exhibition featuring the finest of this unique artistic expression and personality.
The exhibition will fill both the Main gallery and NBeX project with paintings, graphic works, stained glass, painted ceramic dishes and unique jars.
For those who do not yet know Vilmantas, it is worth mentioning that he has had a remarkable career since the academy in Vilnius, Lithuania, which is constantly evolving.
At the request of a wellknown  art collector, we first met Vilmantas and his wife Indra in 1997. This meeting and the following two years had major consequences for both Vilmantas career and gallery NB's profile. Thus, since 2000, the artist and gallery has a world wide cooperation. Vilmantas is a very technically skilled artist and at the same time creative artist with personal attitudes. For example, during academy, he developed his own color spectrum and a holistic mindset for his expressive works. Historically, there will be evidence to describe Vilmantas with its very unique approach to colors and the true personal artistic expression, as a great artistic personality with brilliant features.
In addition to his normal work in the studio, he has carried out extensive decorations and portrait assignments, primarily in Denmark. Furthermore, he is an example to many Lithuanian artists, including as initiator and founder of the annual Young Painters Prize, which takes place in Vilnius, and attracts young artists from all three Baltic countries.

The exhibition is followed by a catalogue: Vilmantas - TOGETHER - 2019
See more >
Slut dato:

2019-09-22
Henriette Hellstern
25.08 - 22.09
Das Narrenhaus
Henriette Hellstern is a big fan of thematic exhibitions. They stay focused and create an interesting and intense experience for the audience. Therefore, it is with great expectations that we look forward to the upcoming exhibition.
Henriette Hellstern is remarkably strong, dynamic and very personal in her expression and profile. She herself says: I think I became an expressionist, as working with real true emotions every day. It was a taboo in my childhood, but today I can tell the present, the incoming and the stories through this technique, says Henriette Hellstern, adding: precisely this, talking about things through art is important to me. I think we can meet across differences if we can communicate, and what's better than the art of making paintings on words we can't say?
Therefore, we look forward to the thematic exhibition Das Narrenhaus, which takes an affectionate starting point in the doctors' practice towards the patients at the Insanity Hospital in Viborg in 1877.
Das Narrenhaus is also the story of being an outsider and misunderstood individual. In Henriette Hellstern's childhood in East Jutland, artists also felt differently. The need for a psychologist was completely outlawed, and they looked down at those in the community who needed help. Something that the artist feelled on her own body as she went down with social phobia and then severe depression. The understanding of the outside world was missing.
The exhibition is therefore a two-part experience where one can choose one's focus in relation to a personal interest in either the professional side of psychiatry as it was 142 years ago, or as an insight into the artist's challenges of life's vital issues.
See more >