Gallery NB: 11.04 - 30.05
Paul Smulders: Apophenia
Ruslan Merzlyakov: Star Dust
Gallery NB is happily reopening on April 11 with two solo exhibitions.  
Paul Smulders shows his newest paintings in the MAIN gallery and Ruslan Merzlyakov presents his photos in the NBeX project.
Due to Corona restrictions, the gallery does not open with vernissages. But the artists are Sunday afternoon present in the gallery and you can meet and talk with them about their art works

Paul Smulders
'APOPHENIA'


The title and theme of Paul Smulders' (b. 1962) upcoming exhibition is called: 'Apophenia'. Inspired by waterscapes, he examines and expresses his personal experiences, moods, figurations and movements in his art works. At first glance it may be called a banal theme, but nevertheless the paintings are the basis of an extremely accomplished, intense and beautiful exhibition.
Apophenia is a psychological phenomenon: 'the tendency to perceive a connection or meaningful pattern between unrelated or random things and the ability to see shapes, patterns, elements and contexts where there are none'. We all know how to look at the clouds and suddenly we see a shape or a figure. It could be an animal, a face or something completely different, but what we see is not real. It's only our imagination and this phenomenon is called 'apophenia'.
In Paul Smulders' paintings apophenia is used as a tool. Throughout his career, these tools provide him endless possibilities in creating new art. In fact, it is the core of his art form - this phenomenon plays a key role in his art work and gives us, as observers, again and again the possibility of free interpretation.
Ruslan Merzlyakov
STAR DUST
Ruslan Merzlyakov (b. 1995) is a totally dedicated personality, whose focus is solely on photographing the starry sky. As soon as there is a view of a clear night sky, he goes out into the night with his camera to find his subject. Often in an excited anticipation of the adventurous motifs that the night sky does not immediately hide.
With very long shutter speeds, he only takes a single photo at a time. And without photographic finishing, it is fantastic to experience the intensity that the night sky offers - and which we can not immediately experience with the naked eye.
Geographically, the motifs are taken from well-known Danish locations. For example, the photo 'From the Big Bang to Moens Klint' was taken from a position in the sea off Møns Klint. To make it possible to keep the camera completely still, he made a steel construction, which was placed on the seabed, so that it became possible to maintain a very long exposure time. Motif and composition have also in this case gone up in a higher unit.
In his CV you will find several awards. Among these there are the award as the Photographer of the Year 2019. Click at videolink to YouTube
The exhibited photographs are made with UV treated pigments printed on Alu-Dibond and in a certified edition of max. 3 signed copies.
Facts:
Time: 11.04 - 30.05
Exhibitions:
MAIN gallery - Paul Smulders: Apophenia, painting
NBeX project - Ruslan Merzlyakov: Star dust, photo
Other: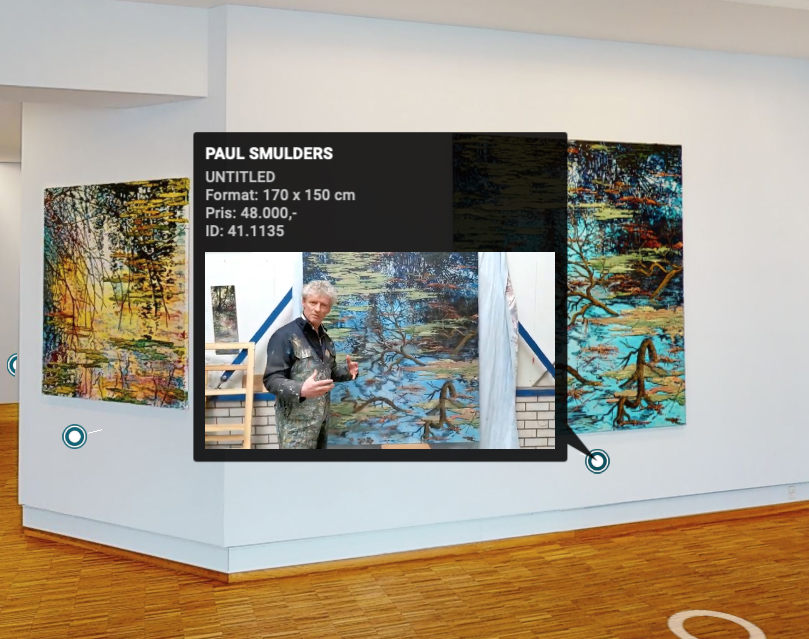 Link: 3D virtual tour with the artists' comments on the works of art