Contemporary Human
Welcome to an outstanding exhibition. 
15 international artists express and describe their understanding
of the human concept in painting, collage and sculpture.
An exhibition of 50 artworks.
Vernissage
Friday, February 28 at 15-17 p.m.
Introduction to the exhibition by Thorkild NB Nielsen at 16:00
Several artists will be present at the opening.
Link to the exhibiting artists: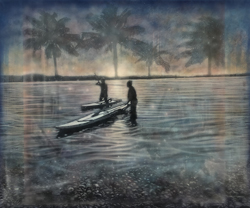 Henrik Kleppe Worm-Müller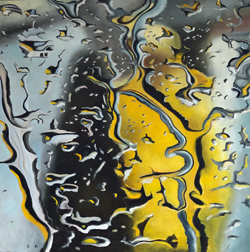 Steen Larsen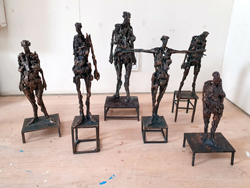 Thomas Andersson
Contemporary Human
- An extensive theme exhibition with 15 international artists. 
Shai Azoulay from Israel and Sándor Szász from Hungary are drawing the extremes of the distinguished range of talented artists, who fill gallery NB with work of art that implement and describe the concept of Contemporary Human/Contemporary Figurative art.
Shai Azoulay is an accomplished colorist and expressionistic painter. Parallels to Matisse, Monk, Magritte, Richter, Doig and other masters are fused in Azoulay's expression in the most beautiful and moving way.
Sándor Szász, on the other hand, deals with various social human challenges in his art. The memories are crucial to him. They are a formative force to identity and in the development of personalities which have subsequently shaped the world. His sharp collages are based on the importance of famous people. He then adds extra elements to the collection of characters, which in a wondrous way inspires us to reinterpret the person.
In this way the exhibition Contemporary Human and the distinguished group of international artists are framed by Shai Azoulay's expressionistic paintings and Sándor Szász's investigative collages.
The human being, its dreams, visions and longings are captured and performed in such different artistic expressions:
Andrea Damp who lets the innocent children roam in the great nature -  Kirsa Andreassen who combines the golden age painting in interaction with 2D figures - Beate Höing's ceramic sculptures framing the girl's dreams into a fabulous universe of nature - while René Holm presents two large paintings from the theme "Time travel"  which were a part of his solo exhibition at Trapholt in 2016 - Nana Rosenørn Holland Bastrup goes deep in the interpretation of the human ability to put a mask on and thus mask themselves to the outside world - this is also the theme of Claes Otto Jennow's painted photos - Henrik Kleppe Worm-Müller, in turn, expresses a mood of humanism that can only fascinate in an impressionistic and kitch-like background.
We find ingenuity, figuration and expression in Vilmantas's paintings and ceramic works - while Peter Neuch explores the naked woman in his watercolors - John Reuss explores the movements of the body in an abstract space - the sculptural expressions of Thomas Andersson's bronze sculptures and Daniela Schönemann's carved wooden figures are otherwise subtle and call for both smile and interpretation.