ANIDOX:VR Awards exhibition 2020
-  A part of Viborg Animation Festival (VAF)
Location:
Gallery NB
14, Sct. Mathias Gade
8800 Viborg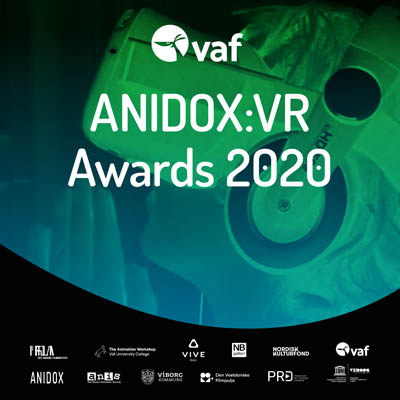 ANIDOX: VR and Galleri NB are proud to invite you for
ANIDOX:VR Awards 2020
–  factual and visual storytelling in emerging media/VR.

Presenting the ANIDOX:VR Awards Exhibition 2020: A part of Viborg Animation Festival
24.-27. September at galleri NB
Exhibition Opening hours:
Following COVID regulations – Advance sign up required
Get your tickets (free) here
Fri. 25/09/2020 10:00 – 18:00
Sat. 26/09/2020 10:00 – 18:00
Sun. 27/09/2020 10:00 – 14:00

Seminar:

Register and join our seminar online, or in-person on 
Thursday 24/09 13:00-15:00 (CET)


Proud to showcase these great VR works: 
> Hush by Vibeke Bryld, Final Cut for Real
> Minimum Mass by Raqi Syed & Areito Echevarria, Floréal Films
> Missing Pictures: Birds of Prey by Clément Deneux, Atlas V
> The Dawn of Art by Pierre Zandrowic, Atlas V
Guest panel:
> Simon Løvind, Danish Film Institute
> Yves Nougarède, Festival international du film d'animation d'Annecy
> Martina Scarpelli, Filmmaker Martina Scarpellii

About:
The ANIDOX:VR Award, distinctively addresses factual and visual storytelling in emerging media/VR. Geared to facilitate meaningful cultural experiences, ANIDOX:VR is an international showcase and a key player in the art-meets-technology landscape. We aim to create an exhibition which is attractive and accessible to the general public, as well as drawing audiences and professionals from the worlds of science, tech, business and the arts.
The Awards exhibition will present 4 works selected by a team of top industry professionals. A jury, composed of consultants from the Danish film institute and the Swedish film institute will award the most immersive experience a cash prize and the most innovative piece, a residency grant for the development of new work. The award will be announced during the VAF closing ceremony on the 26 September 2020. On the 24 September we will host a seminar - A dedicated ANIDOX programme which will include a panel discussion, guest presentation and special screening.
General:
What is ANIDOX?
ANIDOX – Documentary meets animation - bringing together documentary creatives, directors, producers and animation professionals as well as artists working in cross media, hybrid forms and new technologies. Leading Masterclasses, a residency programme, professional training and a production and development scheme. Part of The Animation Workshop / VIA University College, in partnership with the Danish Film Institute, the Swedish Film institute, CPH:DOX, Nordisk Panorama and Documentary Campus.
ANIDOX is proud to be a part of Viborg Animation Festival: the biggest animation festival in Denmark playing a central role in raising awareness about the art of animation, film and related media among the general public. Since its inception, VAF has become a meeting place for the animation industry and the public, drawing thousands of visitors. In 2020 VAF has a special focus on Germany, celebrating friendship and reunification. The mission of the festival is to bring national and European content to Viborg through screenings, workshops, meetings, conferences, exhibitions and more - and share it with a broad audience of all ages.

The exhibition is open 24 – 27 Sept. '20.
For more information: https://anidox.com/anidoxvr/